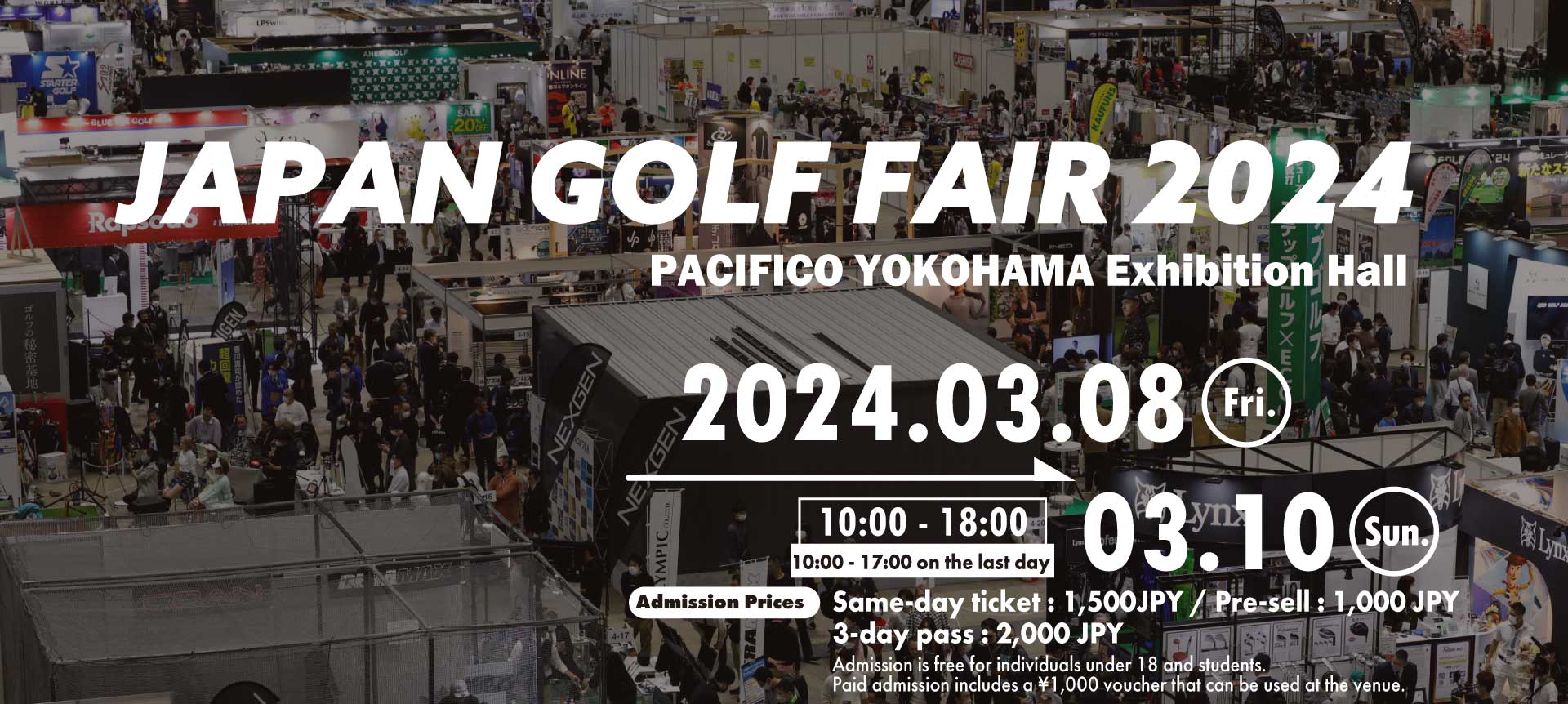 Overview
58th Japan Golf Fair 2024
Dates
8(Fri.) 9(Sat.) 10(Sun.) March 2024
Hours
10:00 - 19:00 (10:00 - 17:00 on the last day)
Venue
PACIFICO YOKOHAMA Exhibition Hall
1-1-1 Minato Mirai, Nishi-ku, Yokohama 220-0012, Japan
Organizer
Sponsors
Ministry of Economy, Trade and Industry
Yokohama City
Japan Golf Association
Japan Golf Range Association
Japan Golf Courses Employers Association
Japan Public Golf Society
The Professional Golfers' Association of Japan
Japan Golf Tour Organization
Japan Ladies Professional Golfers' Association
Greenery by Golf Group
The Golf Tournament Promotion Association of Japan
Turfgrass Research & Development Organization of Japan
Japan Golf Journalist Association
Japan Golf Tour Players Club
Supported
Yokohama Convention & Visitors Bureau
Admission Prices
1,500JPY (1,000JPY Pre-sell)
Expected Visitors
Planning
Japan Golf Goods Association
Fair Committee /Japan Golf Fair 2024 Executive Committee
Administration
Japan Golf Fair Operational Secretariat
Exhibition Process
STEP 1
Download the "Exhibition application form".
STEP 2
Email the completed application to jimukyoku@japangolffair.com.
STEP 3
Submit payment for the exhibition fee.
STEP 4
Submit the completed additional application forms.
List of Application Forms
■ Please submit application forms before the deadline.
All exhibitors must submit the application "forms A, B" by e-mail.
Other application forms are optional. The forms submitted after the deadline will be invalided.
*Please download the forms from our website.